Wu Wei (China 1970)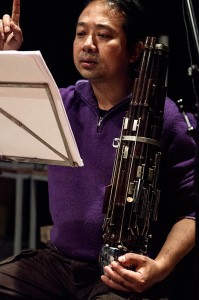 Wu Wei, born 1970 in P.R.China, studied the Sheng at the Shanghai Conservatory and was a soloist with the Shanghai Chinese Orchestra before studying at the Hanns Eisler Academy with a DAAD scholarship in Berlin, where he is now based.

WU Wei is an avant-garde Sheng soloist. He has helped to develop this four thousand's years old ancient instrument into an innovative force in contemporary music, through the creation of new techniques, expanding the new repertories and intergrating different styles and genres. Website: www.wuweimusic.com
in addition to many prestigious national and international competitions for traditional Chinese music, he won the "Musica Vitale Competition Germany" in 1996 and 2002 and the "Global Root" German world music prize in 2004. In 2011 he won the Herald Angels Award by Edinburgh International Festival for Composition of Unsuk Chin "Su-Concertro for Sheng" with the Seoul Philharmonic Orchestra under Myung-Whun Chung.

Since 1996 he has appeared as a soloist with many leading orchestras and ensembles, amoung others the Berliner Philharmonic Orchestra, the Seoul Philharmonic Orchestra, the Radio France Philharmonic Orchestra, the BBC Symphony Orchestra and many more. In the Netherlands he appeared with The New Ensemble the Metropole Orchestra Holland, the Atlas Ensemble.

He has given the world premieres of more than 200 works (including ten concertos for Sheng and Orchestra), by composers including John Cage, Unsuk Chin, Toshio Hosokawa, Enjott Schneider, Joerg Widmann, Guus Janssen, Tan Dun, Chen Qigang, Guo Weijing and Ruo Huang. He is also a prolific composer for Sheng. He already received various composition commissions, such as the foundation Royaumont in 2004, "Musica Viva" Munich in 2005, the Hanse culture foundation in 2009, the Civitella Ranieri foundation New York in 2010, the cultural foundation Sachsen in 2003, 2005, 2006 and 2011.


Klaas Hekman (Rotterdam 1949) bass saxophone and flutes


To specialize in the bass saxophone is in itself an unusual and likely unique idea. Rotterdam resident Klaas Hekman has chosen this path for the past thirty years and is undeniably 'the' master of this instrument. His beginnings, nearly thirty years ago, as a graduate of the Royal Academy of Music in The Hague are surprisingly on flute. His destiny however was ensured at a 1980 meeting in London with Lol Coxhill, when he saw a bass saxophone in a music shop. He was fascinated by this enormous instrument, purchased it and the rest is, as the expression goes, history.

Over the ensuing years his illustrious portfolio has included events with large saxophone ensembles, theatre productions, dance music from Surinam, and in more recent years collaborations with numerous players including trumpeter Roy Campbell, and with Intermission, a music project for three double basses and one bass saxophone: Hideji Taninaka, William Parker and Wilbert de Joode on the double basses. Intermission has also performed with the English guitar legend Derek Bailey, pianist Chris Burn and (electronic) composer Gilius van Bergeijk. A recording from 2004 (Yolo – Strotbrock 501) presents him solo, illustrating the brilliance of his playing. Howard Reich in the Chicago Tribune wrote: "How one man can produce so much thunderous sound from so unwieldy an instrument almost defies comprehension". But Hekman's solos proved so majestic in scope, searing in tone and coherent in structure as to represent self-contained artistic statements in their own right."




Andro Biswane – (Surinam 1965) guitar


Andro Biswane studied at the conservatory in Rotterdam classical guitar (1983-1987) as well as pop & jazz (1991-1996). Studied West-African with African and Caribbean music masters in Holland, Gambia, Mali, Senegal between 1997-2005 and studied Indian music with Indian music masters between 2005-2011 Andro performed in countries all over the world: Cuba, all over USA, 10 countries in Africa, Suriname, Malta, Reunion, Europe, Jamaica, Curacao, Bonaire, Spain, Belgium, Germany, Hungary, Czech Republic, Yugoslavia Romania, Croatia, Switzerland, England, Ireland, Scotland.

Appearances at: Havana Jazz Festival, North Sea Jazz Festival, Malta Jazz Festivals, Heineken Jazz Festival Gran Canaries and various African-Caribbean and World Music Festivals in around the world.

Theatre:Andro is also working as an musician/composer/actor/singer in theatre and television productions under directors Rufus Collins and John Leerdam: Dead Wood Dick (Major Role) 1989, 'Beggars Opera'(Major Role) 1990, the Dutch television Soap 'Serie Goede Tijden Slechte Tijden' (1992), Lets talk about Sex as actor/musician/composer (1993).

Collaborations: As a guitarist he collaborated with dancer Kalpana Raghuraman (India), USA award winner 2007 Toumanie Diabate (Mali), David Murray (USA), Lester Bowie (USA), Billy Haynes (bassist Tina Turner), Basekou Kouyate (Mali), Various Dutch Pop&Jazz artists, Chandru Violinist (India), Karim Ziad drummer (Marocco).

Teaching: Since 1985 he is a guitar and bass guitar teacher: private and at youth centers. Since 1998 till now guest faculty teacher at conservatories in Holland, Senegal, Scotland, India, Suriname, Poland, South Africa, USA.

Currently Andro is working as a guitarist, bassist, percussionist, composer, freelance (studio) musician and producer. He is teaching and is leading workshops guitar, bass guitar at Music Schools, Music Colleges, Conservatories Public Schools, Events Projects and private lessons. He gives master classes on Afro culture. Latest assignment: India, Holland, Suriname, Scotland




Joost Buis (Amsterdam 1966) trombonist, improvisator, componist, band leader and lap steel guitarist


Joost Buis, an improvising musician and a composer living in Amsterdam. He plays trombone and lap steel guitar. He has been active in the Dutch improvised music scene since 1983 and has played and recorded with many groups in Holland and abroad.

Kevin Whitehead (author of New Dutch Swing) wrote about Joost Buis: Joost Buis' tunes are clean and true, and still let weird details nibble at the edges on Zoomin'.

In the mid-1990s, trombonist Joost Buis put together a little big band called The Astronotes, which played often at community centers in Amsterdam. At first, they performed the music of intergalactic free-jazz bandleader Sun Ra. They only began recording nearly a decade later, after Buis had begun writing for the band himself. Their latest is called Zoomin.

Most of the tentet's original members are still around after 15 years, and know how to work with and around each other. Buis' pieces don't sound much like the cosmic music of his onetime inspiration Sun Ra, but he learned something from the master about repetition and variation, and how to build music in layers that diverge and converge. Bandleader Buis also learned a lot from Duke Ellington pieces; like Ellington, he gives his players a long leash, the better to involve them in the creative process. In Buis' tune, "Zest for a Zizz," he suggests the opulence of Ellington's dozen horns by skillfully arraying The Astronotes' five winds in background and foreground roles. Horns include cornet player Felicity Provan and the rapturously breathy tenor saxophonist Tobias Delius. Coming up in Amsterdam, and working for some of the city's top bandleaders, Joost Buis and his Astronotes were exposed to myriad approaches to contemporary music-making. His piece "Icy" borders on a genial parody of the chugging saxophones and mysterious pauses found in some severe Dutch concert music.

Buis picked up good composing tips from some former employers. Willem Breuker taught him about making 10 pieces sound like more by keeping everyone busy all the time. He learned about booting his soloists with a catchy vamp tune from Sean Bergin. Guus Janssen showed him how different themes in a piece can collide, or interrupt each other in a friendly way. Controlled anarchy is a code these Astronotes fly by. They play Joost Buis' tunes clean and true, and still let weird details nibble at the edges. That sort of despoiling playfulness typifies a lot of Holland\'s improvised music: Just because you're serious doesn't mean you have to be so serious all the time.


Satyakam Mohkamsing (India 1987) – violin


Satyakam Mohkamsing a young and promising violinist who was born in New Delhi India in 1987. He started his musical training at the age of seven in Varanasi, India under the guidance of the well-known Satyaprakash Mohanti, a student of Dr. N. Rajam. Satyakam continues his studies at the Rotterdam Music College (Codarts) where he is taught by the Dutch virtuous Lenneke van Staalen. He also received training from established vocalists such as Rita Bokil and Sambyal 'Rangilewale' Thakur in Suriname. Since then he has performed in The Netherlands and Suriname, South America. 
In 2010 Satyakam graduated for his BA at the RotterdSam conservatory where he studied under guidance and supervision of pt. Hariprasad Chaurasia and pt. Dhruba Ghosh. Since 2010 Satyakam also receives guidance from dr. N.Rajam and graduates in 2012 for his MA.


Alan Purves (Scotland 1952)- percussion


The Scottish drummer and percussionist Alan Purves has been touring and playing all over the world and there is not a musical style that he has not played. He worked with actors, dancers, theatre companies like the Footsbarn theatre, Orkater and many bands. Rock bands and jazz bands like Sean Bergin\'s MOB, Tristan Honzinger\'s This That and the Other, Franky Douglas Sunchild, The Astronotes and Palinckx. With cellist Ernst Reyseger he has a project with Sardinian singers in which you can hear his wide range of influences: Latin, folk, rock, jazz and improvised music. More a 'squeekologist' than a mere drummer, he creates rhythm from any object at hand.

Photography by: Rick Hekman